Handig: brochure verstandig verhuren!
Op een veilige en verstandige manier verhuren.
Dat vinden wij belangrijk. Want wat zijn de juridische en fiscale consequenties met betrekking tot verhuren? Download de brochure!
Daarom hebben wij een handige brochure samengesteld, zodat u in 1,2,3, stappen uw woning veilig kunt verhuren in de vrije sector! Heeft u alsnog vragen naar aanleiding van de brochure? Of is iets niet helemaal duidelijk of kunt u iets niet vinden? Neem contact op met ons. Wij staan klaar voor al uw vragen en opmerkingen.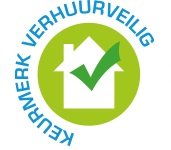 Download de brochure 'Veilig verhuren' (pdf)